THE STORY
CFOX Tail In,

1960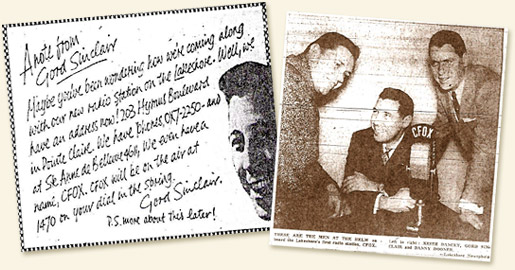 Keith Dancy-Gord Sinclair-Danny Dooner, March 1960
Lakeshore News message, January 1960
Lakeshore Broadcasting launches 1470 CFOX Montreal on the AM band, Tuesday March 15 as "Lakeshore Family Radio". Studios are nestled in the West Island suburb of Pointe-Claire at 203 Hymus Boulevard, corner of Boulevard St-Jean with announcer Ron Bertrand conducting on-air tests that night. Power at first is 1,000 watts, day and night. The transmitter and two 180-foot towers are located in Châteauguay, Qc. The official first day of broadcast is the following morning, Wednesday March 16 starting with the first live on-air personality, Gord Sinclair, and the 1470 CFOX morning show. Lakeshore Broadcasting is Gord Sinclair, Danny Dooner, Gerald Duffy, James O"Connor, Russell McKeogh, Gaston Parent and Keith Dancy.
1963
1470 CFOX increases power from 1,000 to 10,000 watts by day, 5,000 watts nightime full time in February, now using three 180-foot towers in Châteauguay
1964
On the last week of July, 1470 CFOX goes Country music 24 hours a day as "The Nashville Sound"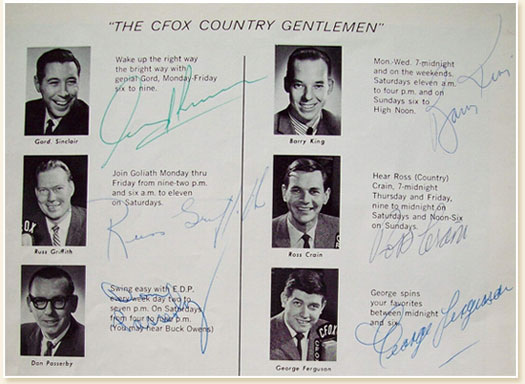 1965
1470 CFOX switches to a Top 40 format in August
1966
A five-year Top 40 radio Golden Era is on the horizon for 1470 CFOX in Montreal
1967
In June, Danny Dooner and Keith Dancy sell their interest in 1470 CFOX to Gord Sinclair's Sinclair Broadcast Management Ltd.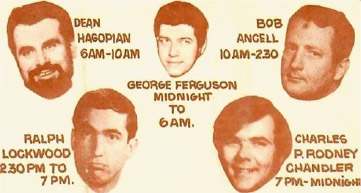 | | | |
| --- | --- | --- |
| Roger Scott | Bob Gibbons | Ron Legge |
1972
Gord Sinclair (Lakeshore Broadcasting) is given approval in July to sell 1470 CFOX to Allan Slaight. Shortly thereafter the format of the station is changed to "New Country Music".
| | | |
| --- | --- | --- |
| Gary Kines | | Bill Lowell |
1974-1977
From 'New Country Music' back to an essentially "Adult Contemporary / Open Line Talk Show" format in March 1975 onward for what becomes the final chapter of 1470 CFOX in Pointe-Claire.

Gord Sinclair - Hal Stubbs - Ted Tevan
Dave Patrick - Richard Kidney - Dean Hagopian

______________________________________________



Gary Bell

Jim Wilkinson

Dan McLean

Andy K

Mike Williams

Joe Evans
CFOX Tail Out,

1977

On the evening of Thursday September 15, Jim Montague becomes the last live on-air personality on 1470 CFOX. His air-shift is followed by a closing message by then-General Manager Bill Townsend thanking listeners, sponsors and staff. It is followed by the last song ever to be played on 1470 CFOX, Sweet"s "Fox On The Run" and an 18-minute pre-recorded tongue-in-cheek farewell called "Killing of the Fox", the brainchild of two other CFOX announcers, Gary Bell and Joe Evans.
Allan Slaight sells 1470 CFOX to Canada All News Radio Ltd. The C-F-O-X call letters are dropped and changed to CKO-AM and an "All News" format is adopted.