On stage, in studio or on set, acting, promoting or hosting, Marc Denis' professional appearance and dynamic voice are the perfect fit for your project or event.
Marc Denis' experience and versatility are assets to any production. Marc Denis works effortlessly in either language and adapts to the cultural nuances, ensuring your message is delivered accurately.
Honest, sincere, professional and fun is what comes across to the audience when Marc Denis is on stage or on-camera. A smooth production every time... in English, in French... or BOTH.
Trusted over the years as:

TV host (specials, lottery draws, telethons)
TV infomercial host
Product Spokesperson
Corporate Events & Convention host
Video or CD Rom host and spokesperson
Corporate video project co-producer
TV/Movie Actor
Corporate communications instructor
Training video for Immigration Canada

On stage for
The Royal Bank

M.C. for alma mater The University of Ottawa

Bristol-Myers Squibb corporate video
Marc Denis is available for all types of public or on-camera duties.
From corporate videos to live on-stage events that require a smooth and professional bilingual performer, Marc Denis is the bilingual solution.

Marc Denis entertaining as a communications instructor with airline in-flight staff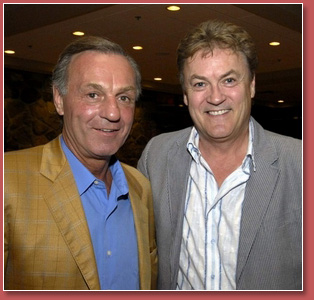 Marc Denis emceeing a charity golf tournament with special guest
of honour for the evening, Montreal Canadiens legend Guy Lafleur
Marc Denis receiving a visit from

80s-90s singing star Rick Astley

Marc Denis presenter, medals ceremony for Olympic champs Chantal Petitclerc and André Beaudoin



Broadcast colleagues Rob Christie and Marc Denis

with singers Toulouse and Martin Stevens at the

CKGM 50th Anniversary Alumni Reunion

Marc Denis consulting on a news segment with CTV Montreal

anchor Mutsumi Takahashi

Marc Denis enjoys working on the big screen from time to time with some familiar names while also experiencing the world of TV sitcoms.
An "arresting" moment with Margot Kidder and Michael Sarrazin in
"Keeping Track"


A "hot" high school reunion in CTV's long-running sitcom "Snowjob"

"Marcel" catches the culprit in "The Young Adventurers"

On-set break with Rod Steiger in
"The Kid"