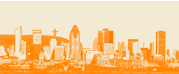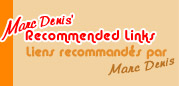 About

MARC DENIS
in


et dans

Control Room


La Régie
Jim
Bay *
1978
(Sports report)
(1:21)
Lee
Marshall *
1974
(Morning news
report Gerry Dixon)
(1:07)
Bryan
Stone *
1974
(Noon news with Gerry Dixon, Jeff Ansell *, Ginger Jones *, Alain Montpetit *)
(3:58)
Control Room


La Régie
Clark
Todd *
1967
(11 o'clock
news report
Bill Falkner *)
(3:00)
Bienvenue à
l'Hommage à la radio CKGM Super 70s de Marc Denis
Welcome to
Marc Denis' 98 CKGM radio Super 70s Tribute Page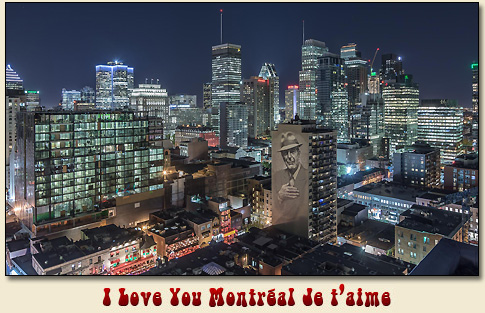 | | | |
| --- | --- | --- |
| Jocks | | Les deejays |
| | | | | |
| --- | --- | --- | --- | --- |
| Gary Bell * | Dan O'Neil | Randy Dewell * | Mike Williams * | Lee Murray |


Rob Christie


Marc Denis


Scott
Carpentier

Ron Able *
Gary Bell (William B. Bell) *
Robert Bell (Jack Bly)
Buster Bodean (Beau)
Scott Brady (Jim Felton) *

(aka 'Marc')
Dave Cannon (Jim Weir) *
Bob Charles (Jeff Newfield) *
Rob Christie (Rob Lowe)
(SuperCoop)
Bobby Day
(Mais Oui)
Randy Dewell *
Al Dylan (Al… not Bob)
Mark Edwards
JP Finnigan (Jack Finnigan) *

Andy K *
Ron Legge *
Ralph Lockwood * (Birdman)

Danny Martel *


(Tom Franciose)
Terry McPhail *
Chris Michaels
Jack Mitchell
Alain Montpetit *
Chuck Morgan * (Tom Watson)
Michael W. Morgan
(Murray Cruchley)
Scott O'Brien (Mark Miatello)

Dave Patrick *
Jim Patton
(Mike Smolders)


Steve Shannon *
J. Lee Smith
Mitch Snaden (O'Connor)

Frank Todd
Mike Williams *
(Big Dan)
(David Williams)
Todd Young (Chuck Chandler) *


Ralph Lockwood *


Donny Burns


Steve Shannon *


| | | | | |
| --- | --- | --- | --- | --- |
| Buster Bodean | Robert G. Hall | Chris Michaels | Mike Cooper | Bob Charles * |
| | | |
| --- | --- | --- |
| Newsroom | | La salle des nouvelles |
Jeff Ansell *
Dick Bacon (Sports)
John Baxter (Sports)
Jim Bay * (Sports)
Ted Bird
(Andrew Forsyth)

Mark Burns
(Traffic)
Dave Christianson
(Sports)
Dave Deloye *


Mike Donegan *
Cynthia Drummond
Bob Durant *
(Traffic)
Cliff Fletcher
Julie Hanna (Traffic)
Andrew Harris (A. Peplowski)
Robert Holiday
Richard Inwood
Ginger Jones *
Dean Kaye
Cynthia Kinch
Bob Lamle
Laurent Lavigne

Katie Malloch
Lee Marshall *


Bill Mckay

Omega Medina (Traffic)
Alain Montpetit *
Jim Montague

Andy Neill
Peter Novak
Danny Phalen
Steve Rae
Tom Riglar (Ski Reports)

Terry Scott


Terri Stacey (Traffic)
(Traffic)
Bryan Stone *
Mutsumi Takahashi (Intern)
Bruce Taylor * (Commentator)
Clark Todd *
Bonney Truscott (Traffic)

Operators &
Producers

Les réalisateurs et
les producteurs
Al Adler

()


Mike Bass
Bob Benson
Howard Blank *(c/o Margaret B.)
Jack Bly (Robert Bell)
Chris Coyle *
(Production)

Keith Grigsby (Production)
Richard Hallson * (Production)
Allan Soifer (Production)
Bill Hayes
Danny Hughes * (Animal)
Irwin Livingstone (Winnie)

Larry Long
Chris Melakos
Kevin McConnell * (Rasputin)
(Shadow)
(Crazy Bruce)

(Brillo)
(Production)
(Jungle Jay)
(Production)

Elliot Shatsky *
Allan Soifer (Production)
Tony van Doorn (van Schwartz)
| | | |
| --- | --- | --- |
| Sales | | Les ventes |
Marcel Beaufils
Tom Castle
Charlie Conroy *
Pat Fabrizio
Mike Godwin *
Steve Graham
Bernie Jodouin

Lise Major
Norm Mosley *

Phil Parker *
Don Passerby
Tim Pratt *
Red Seasons *
Robert Stewart
Greg Sullivan
Ray Tapp
Robert Towner
Ross Tirrell
Liza Verreault
Jeffrey Waxman
George Weiss
| | | |
| --- | --- | --- |
| Staff & Management | | Le personnel et les cadres |
| | | |
| --- | --- | --- |
| Jim Sward | Joanne Rudy | John Mackey |
(Reception / Traffic)
Patricia Baraniuk (Receptionist)
Peggy Bates (Copy)
Linda Bélanger (Secretary)
(Prgm assistant)
(Secretary)
Karen Bryant (Prgm assistant)
Bob Charles * (Promotions)
Jocelyne Côté * (Receptionist)
(MicMac / Horizon)
Fran Darling (Copy)
(MD, Assistant-PD)
Donna Desrochers (Secretary)
Randy Dewell * (Promotions)


Della Marinucci (Traffic)
(Engineering)
(Tom Franciose PD)
Carol Ann McNeil (Secretary)
Chuck Morgan * (Promotions)
(Murray Cruchley, MD)
Joyce Olson * (Copy)
(Prgm assistant)
Melanie Piotrowski (Record Library)
Sandy Rochester * (Pgrm assistant)
Cathy Rodriguez (Reception)
(S. Jo Anne Kelly-Rudy,
Controller, Credit, Op. Manager)
(Receptionist)

| | | |
| --- | --- | --- |
| Tom McLean | Greg Stewart | Chuck Morgan |
Lise Ellis (Traffic)
Robert Garvin (Copy)
Linda Goddard (Receptionist)
(Record Library)
Doug Hall (Mailroom)
(PD)
Ruth Ilyse (Copy)
(PD)
Leonard Joseph (Accounting)
(MD)
Shelagh Kinch (Receptionist)
Bruno Larrivée (Engineering)
John Mackey (PD-GM)

(Pgrm assistant)
(Traffic)
(Engineering)
Geoff Stirling * (Founder & original owner)
(MD)
Felicity Stone (Pgrm & Mgm assistant)
(GM)
(G. Stirling sec.)
Brian Thomas (Engineering)
Andy Thompson * (Janitor)
(Receptionist)
Grace Winnard * (Traffic)
(David Williams, Promotions)
| | | |
| --- | --- | --- |
| Reg Johns | David Wolfe | John Keogh |
| | | |
| --- | --- | --- |
| Theatre of the Mind | | L'esprit d'équipe |
CKGM Super 70s jock
Donny Burns in action,
summer of 1974



Operator: Richard Parent
aka "Brillo"


CKGM dans les années 70 :
à entendre... et à voir !
Donny Burns sur le vif,
été 74
| | | |
| --- | --- | --- |
| Poster | | Affiche |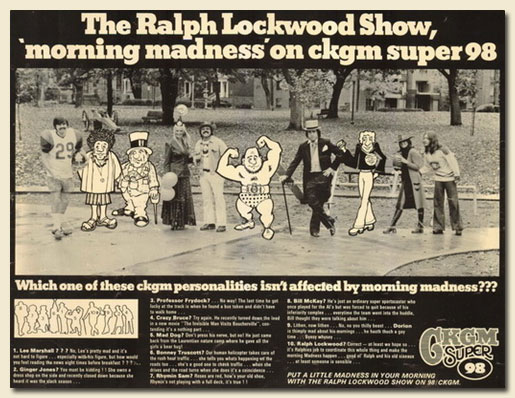 CKGM Super 98 Ralph Lockwood Breakfast Show cast of characters, 1975


| | | |
| --- | --- | --- |
| Reunion 2009 | | La Réunion 2009 |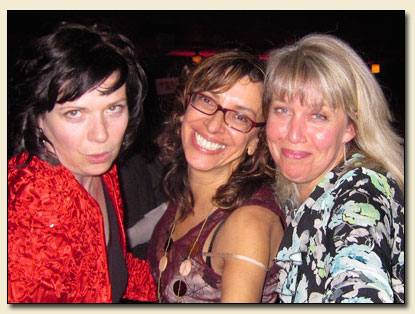 Three of the 98 CKGM Record Librarians / Music Dept.
staffers of the Super 70s, together again, November 21st 2009.
Just for the record:
à gauche:
Connie Gregor
, au milieu:
Joyce Pillarella
,
à droite:
Sandi Stahlbrand (later CKGM on-air traffic reporter)
More memories of the CKGM 50th Anniversary Alumni Reunion of November 2009

| | | |
| --- | --- | --- |
| Reunion 2019 | | La Réunion 2019 |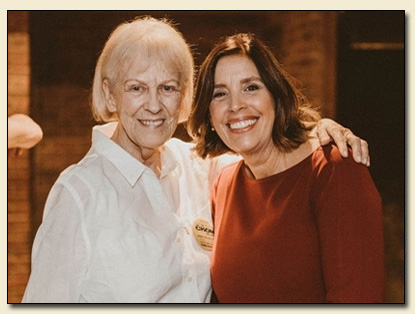 Les deux doyennes
, the two longest serving female staffers,
together again, at the CKGM Rendez-Vous With You 2019 Reunion,
September 21st 2019
à gauche
: Joanne Rudy, active at CKGM for 35 years (1966-2001),
à droite
: Karen Bryant, active at CKGM for 36 years (1979-2015)
More memories of the CKGM 60th Anniversary Alumni Reunion of September 2019



Is someone (are you) missing from the above 98 CKGM Montréal Super 70s list? Did they (you) work there on-air / in production / on staff / in sales / in management from January 1st, 1970 to December 31st, 1979?

Where are they (you) now? Contact us with their (your) current e-mail and ''oui'' will update soonest. As well, 98 CKGM SuperSeventies memorabilia contributions or pertinent facts from that era of the station may be considered for inclusion on this Tribute Page. It's simply an e-mail and a jpeg away.

Thanks for your Super contribution. This is where the CKGM of the Super 70s lives on.

Join the reunion.

Si vous constatez quelqu'un qui aurait été omis (peut-être vous ?) de la liste 98 CKGM Montréal Super 70s ci-dessus et que vous avez fait partie de l'équipe CKGM du 1ier janvier, 1970 au 31 décembre, 1979, contactez-nous pour nous aviser de votre nom et d'une adresse virtuelle valide afin que nous puissions mettre cette liste à jour.

Toute contribution d'articles-souvenirs CKGM des années 70 ou toute information pertinente de votre part sur la station à cette époque pourrait être considérée comme ajout sur notre page Hommage. Vous êtes à un courriel et un jpeg près de nous aider à découvrir… que sont-ils / elles / vous devenus ?

Merci pour votre Super contribution.
C'est ici que la station CKGM des années Super 70 réside.

Bonne réunion.
Mais Oui get the scoop from you soon!
A bientôt, Marc Denis, Montréal
Contributions:
Online since July 1, 2003 / En ligne depuis le 1ier juillet, 2003
This page is updated regularly / Nous faisons des mises à jour régulièrement.
Your contribution towards the maintenance, updating and sustaining of our
980 CKGM Montreal Super 70s Tribute Page online is much appreciated.
Merci pour votre contribution envers l'entretien, la mise à jour et pérénité
en ligne de notre site Hommage à la radio 980 CKGM Super 70.
Thank you for your assistance and long life online to Montreal's Great 98 !